Help Your Child Build Confidence And Strength In Our Kids Martial Arts Classes
Prepare your child for any challenge life throws their way with our Kids Martial Arts Classes in Stanton. Focusing specifically on the art of Brazilian Jiu Jitsu, these traditional Gi classes build students of all ages up through positive reinforcement and exciting classes that are always changing.
At Candal's Martial Arts, we are committed to helping children of all backgrounds and abilities learn how to defend themselves against bullies and intimidation and face life with confidence in everything they do.
Your Child Can Master Every Aspect Of BJJ In Our Kids Martial Arts Classes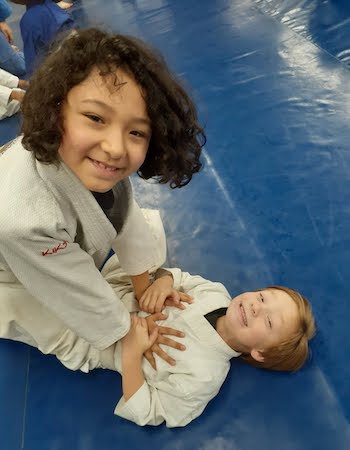 Brazilian Jiu Jitsu teaches students to overcome an opponent's size and strength by establishing superior technique and leverage.
Our Kids Martial Arts Classes in Stanton will teach your child all the basics of BJJ in a safe and secure environment, helping them progress through the system with a series of accomplishments and celebrations.
Your child will quickly learn how to face down a bully with effective conflict resolution strategies - avoiding physical interactions at all costs. But when it's unavoidable, your child will also be prepared to defend themselves and their friends.
In our exciting Kids Martial Arts classes, we help children build:
Strength and coordination
Improved athleticism
Speed, agility, and flexibility
Complete confidence in themselves and their skillset
PLUS Our Kids Martial Arts Classes In Stanton Offer Life Skills That Will Serve Your Child For Years To Come
Whether your child goes on to be a doctor, a lawyer, or a professional athlete, they'll need a core set of character traits to serve them along the way. At Candal's Martial Arts, we're making those skills easier and more exciting to learn than ever.
Our Kids Martial Arts instructors are dedicated to making each and every class fun, keeping our students motivated from start to finish. And with the help of fundamental BJJ instruction, we help children take pride in the learning process and find the strategies that work best for them.
In no time, your child can develop:
Respect for others
Communication and teamwork skills
Focus and attention to detail
Perseverance and determination
And an unwavering sense of accomplishment

Get Started Today Or Learn More About The Best Kids Martial Arts Classes In Stanton, Garden Grove, And Anaheim
Don't let your child struggle to find their footing. At Candal's Martial Arts, we are here to help students of all ages and abilities take pride in what they do and develop vital self-defense skill along the way. Our Brazilian Jiu Jitsu Classes are helping young students develop all the tools they need to succeed. Your child could be next.
To learn more about our Kids Martial Arts Classes, all you have to do is fill out the short form on your screen today!